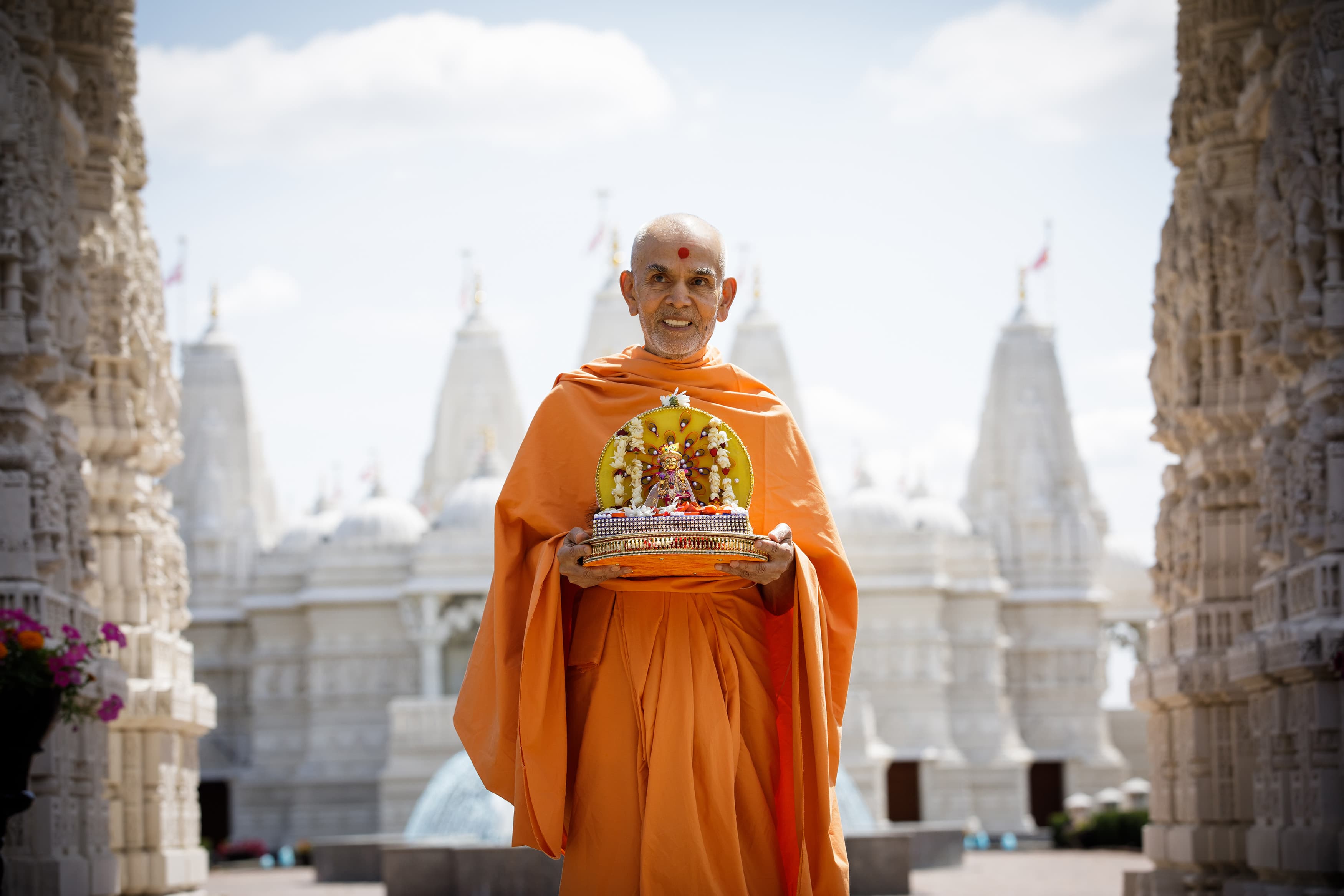 His Holiness Mahant Swami Maharaj standing with Thakorji in front of the BAPS Shri Swaminarayan Mandir in Chicago, Illinois.
Guru Parampara
Mahant Swami Maharaj
His Holiness Mahant Swami Maharaj is the sixth spiritual successor of Bhagwan Swaminarayan and the present leader of BAPS.
As a child, he was blessed by Brahmaswarup Shastriji Maharaj, the founder of BAPS. Attracted by the spiritual charisma and selfless love of Brahmaswarup Yogiji Maharaj, he accepted monastic initiation in 1961 and was named Sadhu Keshavjivandas. Having served Yogiji Maharaj with all his heart, he was appointed as the head ('mahant') of the BAPS mandir in Mumbai. Over time, he became fondly known as Mahant Swami.
After Yogiji Maharaj's passing in 1971, Mahant Swami Maharaj continued to serve devoutly under the guruship of Pramukh Swami Maharaj, traveling relentlessly throughout the world to inspire countless individuals through his profound and thought-provoking spiritual discourses. He has also offered deep insight and guidance during BAPS's grand festivals, children's and youth activities, and many other BAPS mandirs and initiatives.
His steadfast virtues of austerity, self-control, devotion, humility and service earned him the blessings of both Yogiji Maharaj and Pramukh Swami Maharaj. Mahant Swami Maharaj now presides as the guru and spiritual guide to countless devotees and helms the worldwide spiritual and humanitarian activities of BAPS Swaminarayan Sanstha.
A Timeline
Images from His Holiness Mahant Swami Maharaj's life.